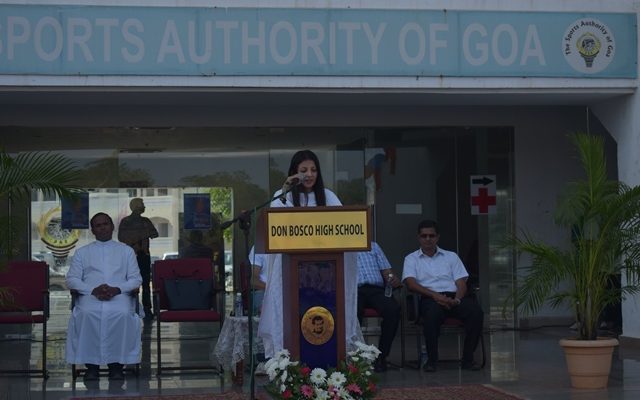 December 13, 2019
Fitness Fest
2.0
DON BOSCO HIGH SCHOOL- FITNESS FEST 2-0
The much awaited Sports Day of our school was held on Saturday 7th December 2019 in the Bambolim Atheletic Stadium, with great zeal, excitement and frolicsome atmosphere. The programme began with the introduction and the welcoming of the esteemed gathering of the chief guests Ms Soraya Pinto Makhija Corporator CCPPanjim Ward 11 and Mr Kabir Pinto Majhika Ex Deputy Mayor of Panjim , Guests of Honour Rev Father Wilfred Fernandes Rector at Parra and Rev Father Joel D'Souza our Administrator and our dear parents. Mr. Kabir Makhija took the salute of the impressive March Past of the students, coupled with some stirring marching music by the band.
The students entered into the spirit of the occasion in a grand way with the oath being administered by the Senior Sports Secretary Adrian D'souza. It began with the Torch run by the promising sports stars who brought laurels to ours school in various disciplines after which the Sports meet was declared open. An energizing display by the Primary students set the tone for the rest of the event. The class IX students displayed their prowess in Martial arts display mesmerizing the audience with their skilled performances. The different synchronized colourful class drills like the lotus drill and Scintillating surge added colour to the evening. The Zumba , yoga and pyramids showcased the unison, the suppleness and the sprightly spirit of the performers. Once the races began, the air was filled with cheering and tons of encouragement for the young athletes.
The Best march past trophy was awarded to class wise and the overall champion trophy was awarded to the Tagore house.
Don Bosco High School believes in holistic development of its students. The students put up a spectacular show and it could not have been possible without their ardent commitment towards it. Apart from this, students also took part in various events such as sprints, relay, long jump and shot put while they beat the heat by participating in all these events earlier. Our students learnt the importance of the Sportsman's spirit, team work, cooperation and self-confidence. The strong force behind this great event was our ever supportive and encouraging Principal Fr. Avin Carvalho, the Supervisors, the Coordinators and our very diligent teachers.